As president/CEO of Hilton, Chris Nassetta has frequently referred to the current period of time as the "Golden Age of Travel," and after stepping in as national chair of the U.S. Travel Association earlier this year, he now has an opportunity to put a stamp on that message, quite literally, as well as his overall legacy.
Nassetta—who has long been active with the Washington, D.C.-based nonprofit association—in late February was elected to succeed Christine Duffy, president of Carnival Cruise Line, whose term had concluded. He has the opportunity to serve up to two consecutive one-year terms as chair of the U.S. Travel Association, which represents the collective interests of more than 1,000 industry organizations, including a diverse variety of travel companies and businesses, as well as destinations across the United States.
Describing his role, and that of the association, as being to "advocate for solutions that remove friction from the travel experience," Nassetta will work closely with U.S. Travel President/CEO Geoff Freeman and the executive team to advance its mission to increase travel to and within the United States, as well as establishing travel as an essential contributor to the nation's economy. To that point, Nassetta noted that leisure and hospitality comprised nearly 30 percent of all new private-sector jobs created in 2022.
The hotel veteran explained what serving as chair of the U.S. Travel means to him on a personal level. "I'm honored to be a part of an association that has long been an incredible advocate for the travel industry. Having been involved in the U.S. Travel Association for decades, I'm thrilled to be able to give back and serve the membership in this capacity," he said.
Nassetta continued, "Ultimately, travel's recovery is the nation's recovery, which makes U.S. Travel's efforts critically important as all segments of the economy rebound from the pandemic, led in many ways by the strength of leisure, business, and international inbound travel."
Nassetta—who has been a high-ranking lodging industry executive for nearly 30 years, serving as COO of Host Hotels & Resorts prior to joining Hilton as president/CEO—spoke about his career path and his passion for the hotel business.
"I started my hospitality journey when I was 16 with a summer job in the engineering department at the Holiday Inn on Capitol Hill. I spent most of that summer plunging toilets! I dabbled in some other industries before eventually making my way back to hospitality. I've always wanted to work in an industry and in a role that would let me make a positive difference in the world, and hospitality offers that in spades," he said.
As proof of that fact, Nassetta serves on multiple industry boards and is the immediate past chair of the World Travel & Tourism Council. He maintained the recent pandemic has not curtailed global travel demand at all, but quite to the contrary.
"We were in a 'Golden Age of Travel' pre-pandemic as people began prioritizing experiences over things and everything we went through collectively during the pandemic only accelerated that trend. Now we're in what I call the 'next Golden Age of Travel,' and that acceleration shows no signs of slowing," he said, referencing some statistics which illustrate the spike in travel.
Nassetta noted that TSA regularly screens its highest daily number of passengers since 2019. He also noted that according to Skift's "State of Travel 2022" report, air travel is back to 95 percent of where it was in 2019. He further noted that hotel occupancies are trending upward as well.
However, despite some of that positive travel momentum, there are clear challenges for Nassetta and the U.S. Travel team, which has prioritized expediting U.S. visa processing and improving the country's air travel process. U.S. Travel currently is pushing the U.S. government to address excessive visa wait times for first-time applicants, which in the top 10 visa-requiring inbound travel markets to the United States now average more than a year.
"These overly long wait times are a barrier for people to visit this country, and translate into real dollars lost for our economy," said Nassetta.
In addition, he emphasized the importance of encouraging the return of government business travel and later stressed, "We also need to restore inbound travel from China."
Nassetta also highlighted key pressures in the nation's airlines and air traffic control system that need to be addressed.
"We'll also be vocal advocates for improving the U.S. air travel system as Congress reauthorizes the Federal Aviation Administration this year. It's a prime opportunity to address FAA's staffing needs and to modernize and deploy the technology that will serve air travelers for many years," he said. Finally, Nassetta offered a healthy dose of optimism when it comes to anticipated travel patterns going forward.
"We're well on our way to returning to pre-pandemic levels, and I'm really optimistic that we will get there in the next couple of years or so. We saw a big pickup in international travel at the end of last year, and the International Air Transport Association (IATA) predicts that global air travel will likely fully recover next year. … Our industry has had many tailwinds lately thanks to pent-up travel demand. While we are not immune to the forces of the macroeconomic climate, we're well-positioned to weather whatever comes our way," he concluded.
---
Culture Comes First at Hilton: CEO Nassetta Credits Work Environment, Innovation as Key Growth Catalysts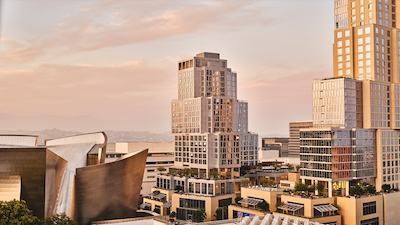 The accomplishments over the past 16 years since Chris Nassetta took the reins at Hilton have been many, from doubling its brand portfolio to recently surpassing 7,000 hotels globally, but when you ask him about what means the most there's no hesitation: the company culture.
Nassetta, in fact, has emphasized the importance of culture since Day One when he took the position in 2007 and promptly moved the company's headquarters from Beverly Hills, California, to its current location in Tyson's Corner, Virginia. That emphasis seems to have paid off. For example, the company was recognized as the top company on the "Fortune Best Companies to Work for in the U.S." list in 2019, making it the first hospitality company to take the honor.
The Hilton chieftain elaborated on the importance of building a positive work environment.
"I'm most proud of how we've transformed our culture over the years. There's an old saying that culture eats strategy for breakfast, and I believe strongly that it's true. The culture we've built together has been at the heart of all of our business success. Our team members are excited to come to work each day, knowing they can bring their authentic selves to everything they're doing, which translates to better experiences for our guests and value for our owners. My priorities will always be our culture, our values, and our efforts to grow and serve more guests around the world," he said.
Of course, a vital part of effectively serving guests is fully understanding them, a key focus within Hilton. For several years, the company has released an annual Traveler Sentiment survey aimed at taking the pulse of today's consumers and gauging their needs. The most recent installment was "The 2023 Traveler: Emerging Trends That Are Innovating the Travel Experience." Having such information at its fingertips helps create many of the company's new initiatives.
"At Hilton, innovation is in our DNA—we have pioneered so much of what our industry considers standard today, and we're continuing to lead the way. Our focus on innovation is deeply grounded in understanding our guest and team member needs, which will be even more important as travel continues to evolve," he said.
As an example, based on its most recent trends report the company saw a clear focus on travel as an essential part of people's wellness routines, so it forged a partnership with Peloton to bring their bikes to every U.S. hotel. From a technology standpoint, Hilton's Digital Key has been widely adopted throughout many of its hotels. The company also debuted Confirmed Connecting Rooms to accommodate families and groups, as well as loyal travelers with automatic upgrades.
The company's focus on innovation has also been evident with numerous new brand launches. Earlier this year, Hilton launched its Spark brand for the upper-economy space, a segment the company had not been in previously. The nascent brand marks the company's 19th flag overall.
Nassetta was asked if he sees any other white space or opportunity for additional brand launches in the near future.
"We're always examining the market to uncover new, innovative, and disruptive opportunities. The rise of 'bleisure' trips is a huge opportunity as travel patterns change, thanks to more flexible work schedules and a 'work-from-anywhere' culture. The fact that more and more companies are codifying remote work policies will continue to be a boon for extended stays, which is a trend we have seen emerge from the pandemic," he said.
As such, Nassetta further touted the value and staying power of what he described as "road warrior" brands within Hilton, such as Home2 Suites, Homewood Suites, and Hampton.
"We also continue to focus on the importance of small- and medium-sized [group] business travelers who represent a significant percentage of our business travel mix. Throughout the pandemic, this was a group of travelers who had to travel due to the vital, in-person nature of their business," he said. Nassetta concluded by offering some insight into what it has meant to him to preside over the hospitality giant for the past decade-plus: "It's been a true honor to have the opportunity to carry on Conrad Hilton's founding purpose to fill the earth with the light and warmth of hospitality. Hilton is an iconic company, and we have the absolute best team in the business. I'm very fortunate to be doing a job I love with such fantastic people."