The events business suffered catastrophic contraction during the first 2 years of the covid pandemic when state and local governments restricted gathering sizes or mandated shelter-at-home orders. It was no surprise that events contracted by 50% and put the 336,000 wedding-related businesses in cold storage or on life support.
In 2020, the US marriage rate dropped to its lowest level ever at 5.1 per 1000 people. 2021 weddings in the US were the lowest total in decades at 1.27 million vs a normal level of 2.2 million.
But, people still found partners and decided to get married. About half the people delayed their wedding ceremony in 2020 and a lesser number in 2021. In total 63% of couples delayed their wedding plans due to covid. The millennials are still the biggest demographic cohort ever, so once the restrictions on gatherings lifted and vaccines were distributed, the demand was expected to come back.
In 2021 the average cost of a wedding was $27,063. The market size of the wedding services industry in the United States is estimated at $67 billion+ in 2022.*
Healthy web traffic is propelled by SEO and local search, which make up the largest channel for most websites, and this is especially true for hotels, which see 61% of trackable traffic from those two channels, according to Milestone Inc. research.
"Wedding and meeting events are critical to hotel revenue recovery because individual business travel has not yet recovered. Hotels should make it as easy as possible for people planning weddings and events to find information and engage in the RFP process through all the primary channels, the largest of which is the website," said Erik Newton, Milestone Inc. VP of Marketing.
Milestone manages thousands of sites and has deployed RFP lead collection infrastructure for hundreds of hotel and event properties websites. Based on that data, Milestone can compare the RFP trends with prior years to build a forecast for wedding count and revenue volume.
The recovery in wedding RFPs is clear as can be seen here: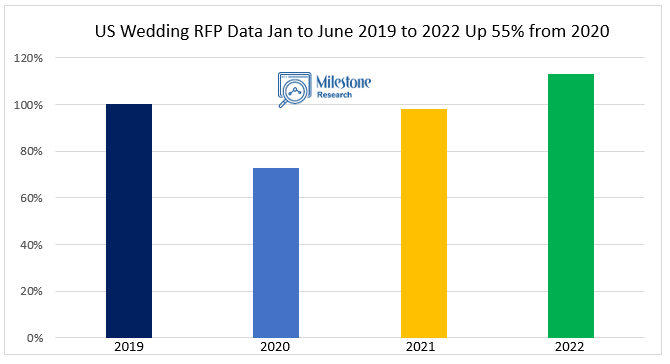 The recovery in wedding demand is welcomed news to the hospitality and hotel industry, which saw huge contraction in all lines of business.
Events and weddings help drive hotel revenue in the following ways:
Event space rental
Food and beverage
Group room blocks
A/V and ancillary event revenue
The key website enhancements sites need to look at are:
RFP lead submission forms on website
Excellent discovery and site experience performance that will enhance SEO and local visibility, including site speed
Content that correctly covers the areas of interest and questions event planners might input into a search engine, which includes images, videos, FAQs, and reviews.
In addition to a high-performance website, businesses need to have a well-organized process for reviewing and responding to the RFP requests in a timely fashion to maximize close rate.
Some other interesting trends in the wedding industry are: segmentation and inclusion. Savvy marketers are creating content and services to appeal to ethnic and cultural groups, like Indian, Hispanic, and Chinese. Others are including imagery and language that is welcoming for gay and lesbian couples. The American Community Survey by the US government reports that there were close to 1 million same-sex couples living together in 2019, and about half are married. That represents 500,000 weddings worth an estimated $13 billion.
If the 2022 US wedding total recovers to 2,450,000 as expected, then the related revenue is forecasted to be over $67 billion. This would be about $23 billion above the depressed 2020 level.
You can download the full weddings and meetings RFP research report.
About Milestone Inc.
Milestone Inc. drives online customer acquisition with its digital platform and managed services. They work with customers, such as Speedpro, Marriott, US Bank, Nissan, McDonalds, Motel6, and Preferred Hotels among others to drive enhanced engagement and revenue.
Contact us at [email protected] or 408-200-2211
*Source for multiple 3rd party data points
https://www.zippia.com/advice/wedding-industry-statistics/?src=sp-popout-scrolled
Gaurav Varma
Director of Product Marketing
+1 408 200 6949